Politics
"Cover your Nose with Facemasks or go to Jail for Six Months" – Governor Hope Uzodinma to Imolites
Imo State Governor Hope Uzodimma has stressed the need to comply with government regulations to fight covid-19 disease in the state.
In a message sent on Friday, January 22, he said that as he saw that people were not allowed to cover their noses according to the medical authorities, that he would make it legal for people to start covering their noses.
As a result, Uzodimma said anyone caught not covering his/her nose would stay up to six months in jail or a fine of N20,000 will be paid.
He added that four appeals courts have been set up to try anyone found without a nose job immediately.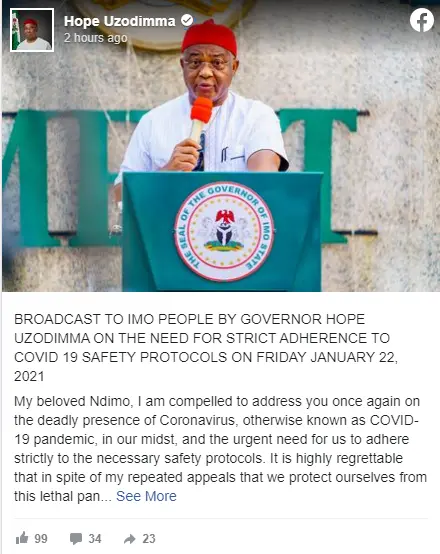 He said each congregation had more than 50 offenders, which could result in imprisonment or a fine of up to 20,000.
As for the clinic, he said they must install a washbasin and a sanitzer and make sure everyone who comes in is covered with a nose. Otherwise, it will be closed to the public.