News
Hope Uzodinma hired thugs to attack my office, Imo NLC Chairman claims
As Labour begins indefinite strike over nonpayment of 17,000 workers, pensioners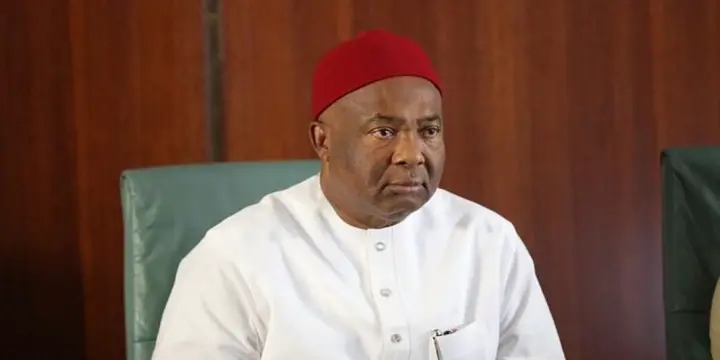 From George Onyejiuwa, Owerri
The Chairman of the Imo State Council of the Nigeria Labour Congress (NLC), Austin Chilakpu, has accused the Imo State Government of hiring thugs as protesters to invade and destroy his office.
This comes as the NLC began an indefinite strike action over the nonpayment of over 17,000 workers and pensioners since February 2020.
Chilakpu also complained that the Imo State Government is yet to implement the new national minimum wage of N30,000.
Hundreds of mostly young men, purportedly workers, had on Monday morning stormed the Imo NLC state secretariat with placards, denouncing the continued his leadership of Organised Labour in the state.
The protesters who forced their way into Chilakpu's office, destroying his pictures and other office equipment, alleging that, having retired from the public service, he should quit as state NLC Chairman.
Addressing reporters, Chilakpu said that over 12,000 workers and more than 4,000 pensioners in the state have not been paid their salaries and pensions, emphasising that the union can no longer fold its arms and allow the situation to persist.
'That is why we have proceeded on an indefinite strike until this matter is resolved. We are commencing strike today, and it has been ratified by the secretariat of the NLC,' he said.
He dismissed the allegation that Imo Labour has been bought by the opposition, and pointed out that the union has given more grace to Governor Uzodinma than any other governors in the state.
According to him, 'these are people government hired. They are not workers. The workers that are coming to carry placards, is it those ones that have not been paid or those ones whose parents have not been paid their pensions?
'As early as 5 am this morning, the government used police to barricade our office, preventing workers from coming in. The government now hired some thugs to ransack our office to look for Chilakpu.
Chilakpu said that following the announcement by the governor that every worker and pensioner have been paid up to December 2020, workers had besieged their secretariat for clarification. But that when they carried out independent findings it was discovered that many of the workers are yet to be paid.
'The reason for this is because the governor by December 2020, announced that he had paid every worker and pensioner in Imo State. This elicited reactions from many workers who besieged our office to clarify the situation.
'We now carried our own independent findings and discovered that a lot of workers and pensioners have not been paid.
'We tabulated them and got all of them and filled their names and their particulars.
'We now wrote to the government that from our investigation, there are almost 17,000 workers and pensioners that have not been paid from February 2020 until date. That's the only problem we have with the government.
'If labour had kept quiet, nothing would have happened. As I'm talking to you now, if you go through some local tabloids, you will see how the government has published the names of the people it has paid.
'To know what is on the ground, just visit any community in the state and ask about pensioners and workers that have been paid. Out of 10, you would find up to five persons who have not been paid his/her salaries and pensions since March. They are alive. Why don't you want to pay them? If you are going to do downsizing, let us know the procedure you are going to use to do that. You don't use cunning way to lay people off. That was the wrong thing Labour did. That's why they're sponsoring people here and there saying Chilakpu has retired and Chilakpu is bad.
'By July 2020, during his statewide broadcast, the governor specifically commended NLC, for their support. The reason was that we were giving him time.
'Suddenly, we have become politicians, corrupt, and being called all sorts of names because we didn't allow him to have his way,' Chilakpu said.
Chilakpu maintained that organised labour had no problem with the governor, insisting that workers whose names are conspicuously missing in the payment system be corrected.
'We expected the government to tell us to bring our own list of workers and pensioners that have not been paid.
'They're now doing another verification, asking the workers to bring NIN which you know that half of the people of Imo State do not have. That's one of the primary conditions they gave now.'
Reacting to the allegations, the Senior Special Assistant to the governor on print media, Modestus Nwamkpa, described Chilakpu's allegations as false saying the governor had no hand in the internal matters of any organization or union.
'The workers said that Chilakpu has retired and that as a pensioner, he cannot head the Imo NLC. So, how does the governor come into this now? If the workers are saying that they don't have confidence in you, how is that the problem of the governor?,' Nwamkpa said.