Politics
Fear of losing Hotel May force OZB to dump Rochas Okorocha
News broke yesterday, the 11th of March 2021, of purported moves by the former Imo State House of Assembly Deputy Speaker, and current Federal Representative of Nwangele, Nkwerre and Njaba, Hon. Ugonna Ozuruigbo OZB, to dump the Rochas Okorocha faction of the Imo APC, for fear of having his hotel demolished, by the Hope Uzodinma Government.
Part of the hotel, owned by the former Deputy Speaker, was last week, marked by the Owerri Capital Development Authority, OCDA, for demolition.
This is as Uzodinma may be finalizing plans to demolish numerous other structures owned by Okorocha's family and friends, including the WestBrook Hotel, owned by Okorocha's son-inlaw, Uche Nwosu, as listed on a report by a Judicial Panel of Enquiry, set up by former governor, Rt Hon Emeka Ihedioha, to investigate Okorocha's eight years reign in Imo State.
A government run Facebook news page Imolites, broke the news, which has not been refuted by Ozuruigbo or his media handlers, and it reads;
"IMOLITES | OZB makes U-turn, Begs Uzodimma
The House of Rep member representing Njaba, Nkwerre, Isu and Nwangele in the federal House of Representatives, RT. Ozurigbo Ugonna OZB, begs Governor Uzodimma and assures him of being a loyal supporter of his Administration as he promises to leave Rochas Okorocha."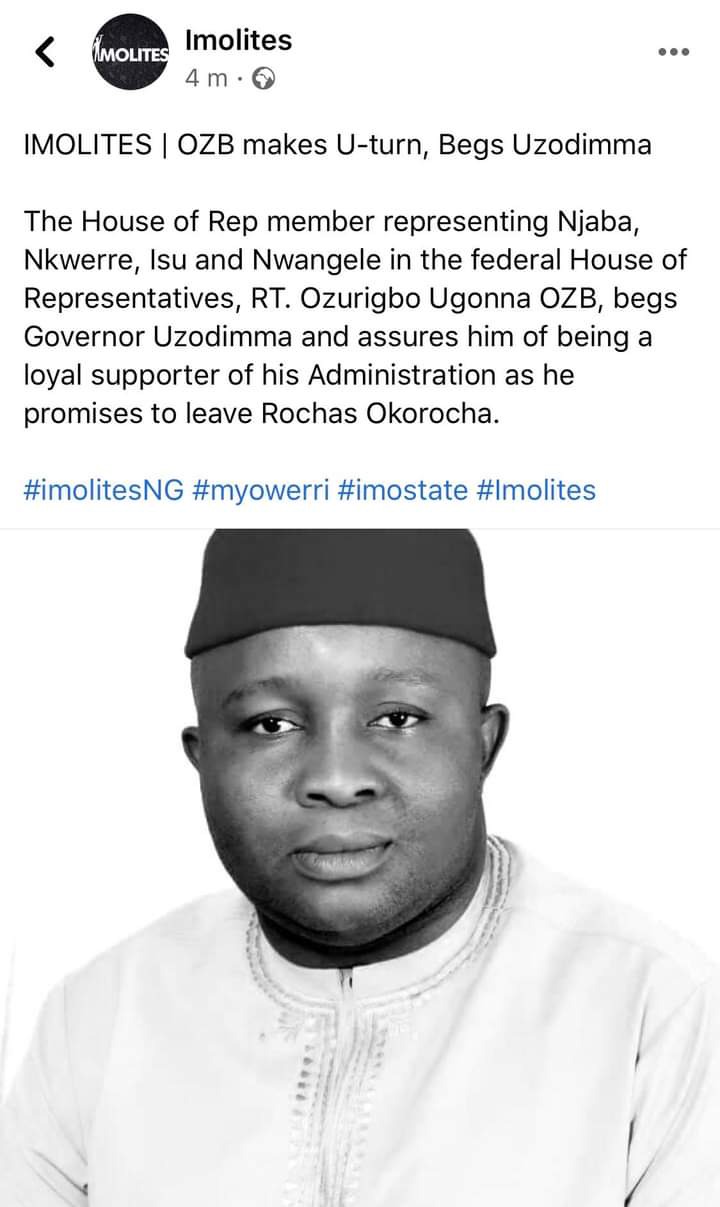 In his reaction, Mr. AIC Akwarandu, New Media Director of the former governor, Rt Hon Emeka Ihedioha expressed his lack of trust, in the Uzodinma administration's resolve to recover looted Imo property.
His reaction reads;
"You see why I keep saying that I do not have confidence in any Probe championed by Gov. Uzodinma.
The essence of the probe seems to get supporters by fire by force and not to conduct any sincere probe.
So everybody should go and beg the Governor. He likes being begged."