News
Nnamdi Kanu Stole ESN from us, Hope Uzodinma alleges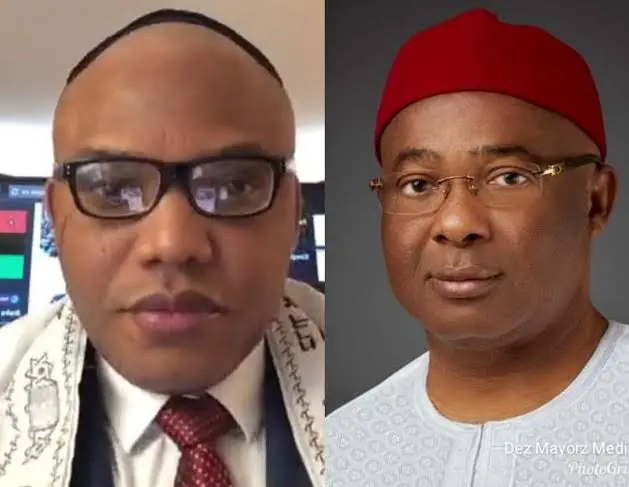 Imo State Governor Hope Uzodimma has accused Mazi Nnamdi Kanu, the chief of the Indigenous People of Biafra, IPOB, of stealing the Eastern Security Network from South East Governors and using it to commit crimes.
Governor Uzodinma announced that the governors of the five southeastern states would meet in Owerri to discuss the logistics of forming a new security force for the region.
The governors, he says, were working to create the Eastern Security Network, but the name was taken over by representatives of the Indigenous Peoples of Biafra (IPOB), who used the organization to commit a lot of mayhem.
In Owerri, he spoke at a conference with correspondents.
"Governors of the Southeast will hold a security summit in Owerri in the coming weeks with a view to fashioning out modalities for setting up a security outfit for our region," he said. We will have a thorough discussion in order to come up with a long-term solution that will complement the work of security agents in the region.
"With the current situation in this region, it is important for every zone to be vigilant and have a security outfit. We cannot afford to make mistakes when it comes to managing security in our area, but we must also be vigilant in our approach.
"By collaborating with Ohanaeze Ndigbo, southeast governors attempted to establish the Eastern Security Network. The attorneys general of the five southern states had already released a report on it, and before we knew it, IPOB had stolen the name and were using it for illegal purposes.
"That agreement is still in place. We're attempting to do a study. We will come up with a long-lasting ensemble. We don't want to do things just to copy what others have done. There are many possibilities, and we must defend our people and prevent external aggression.
"It isn't a government failure because the government's primary responsibility is to protect the lives and property of the people."
The governor stated that the summit would conduct a comprehensive assessment of the region's security situation and decide the best solution to address the problem, especially in light of the ESN fiasco.
Uzodimma claimed that the governors would not want to be copied, particularly given the pressure they are under following the creation of Amotekun by the southwest governors, and that the new outfit would be unique.